Rocks & Cows Staff
11/03/18 – Elected November 2018 to replace previous 12 year incumbent, Rich Stanek, Sheriff Dave Hutchinson took office to lots of fanfare about "equity, transparency" and "restoring trust" as the future of a nicer "more inclusive" law enforcement in Minneapolis and the first LGBT sheriff in the Midwest. Sheriff Hutchinson is endorsed and backed by the who's who of the metro DFL.
11/04/21 – Having done NOTHING, and been completely invisible for the entire start, middle, and crescendo of the record murder and carjacking wave across Hennepin County and totally absent for the 2020 George Floyd riots and arson that destroyed many South Minneapolis govt buildings and suburban retail outlets, Sheriff Hutchinson had drawn an election opponent, Jai Hanson, talking about actually doing….law enforcement. To start the election season early Insightnews.com had a puff piece interview to highlight Sheriff Dave Hutchinson. No mention of a single law enforcement achievement. The interview was primarily a virtue signal about his social values, some advances in prisoner rehabilitation programs and concierge services, and a repeat of his claim that "Transparency, responsiveness, and flexibility are some of my core values."
11/28/21 – Continuing the friendly press rounds to set up the coming election season Sheriff Hutch made a stop at the Andrew Parker Podcast. KARE11 covered the content, and the takeaway quote from the interview is in the photo below. Cops that break the law and policy have to go Hutch? He will come to regret that statement.
12/08/21 – SHERIFF HUTCH DRIVES DRUNK WHILE ARMED AND ROLLS HIS COUNTY SQUAD VEHICLE IN RURAL DOUGLAS COUNTY leaving a Sheriffs meeting for home. The first public take by CBS is it's a simple DWI investigation. Hutch is quoted that it was "an inexcusable decision".
12/16/21 – Sheriff Hutch is rushed through the DFL machine legal system lickety split and pleads to a 4th degree DWI AND THE CHARGES OF CARRYING A LOADED FIREARM WHILE SMASHED….IS TOTALLY DISMISSED! The same day the court results and pictures (from Rebecca Brannon at Alphanewsmn.com) of his trashed county vehicle hit the internet. Oh Boy! That was one hell of a wreck. The wheels are ripped off the vehicle. HUTCH ADMITS HE HAS ALCOHOL PROBLEMS THAT NEED PROFESSIONAL HELP.
12/19/21 – MNGOP calls on Hutch to resign and the news wonders where the "police reform" DFL is.
12/22/21 – BLM and Rep. John Thompson have noticed that the DFL machine is going to sweep Sheriff Hutchinson's gun crime under the rug, and he is going to get the lightest DWI sentence possible and have no professional consequences. "Equity" and "justice reform" right out the window when it impacts the machine powerful. He lets it rip, and Alphanewsmn.com covered it.
12/29/21 – Sheriff Hutchinson pulls strings? and "Hennepin County administration" sends the Medina Police to investigate Rebecca Brannon for taking the shocking photos that gave the Hutch story new legs in the media. DFL hack Douglas County Attorney Chad Larson wasn't happy simply sweeping Sheriff Hutch's gun crimes under the rug and letting him flout the law, he also had to make a statement for the news accusing the journalist of staging the shocking photos. The journalist is not charged with anything, no "staging" was alleged after reviewing video of her at the impound lot. The issue is dropped, but not before making the situation worse for Hutch and identifying some of the "above the law" DFL machine hacks for the public.
01/05/21 – Warrant information about Hutch's DWI crash goes public informing everybody that Sheriff Hutchinson lied his ass off. Affidavits confirm Hutch told responding Douglas County deputies, that found him crawling alongside the road, that he wasn't the person driving the trashed vehicle. Hutch testified to the deputies that some mystery "cab driver" was really the pilot of the wreck before recanting later and admitting fault. Affidavit also discloses Deputies "found an open bottle of bourbon" in the passenger seat. Hennepin County Commissioners Fernando and Lunde decide the warrant information is the breaking point and demand his resignation the same day, and it is all covered by the news as one story.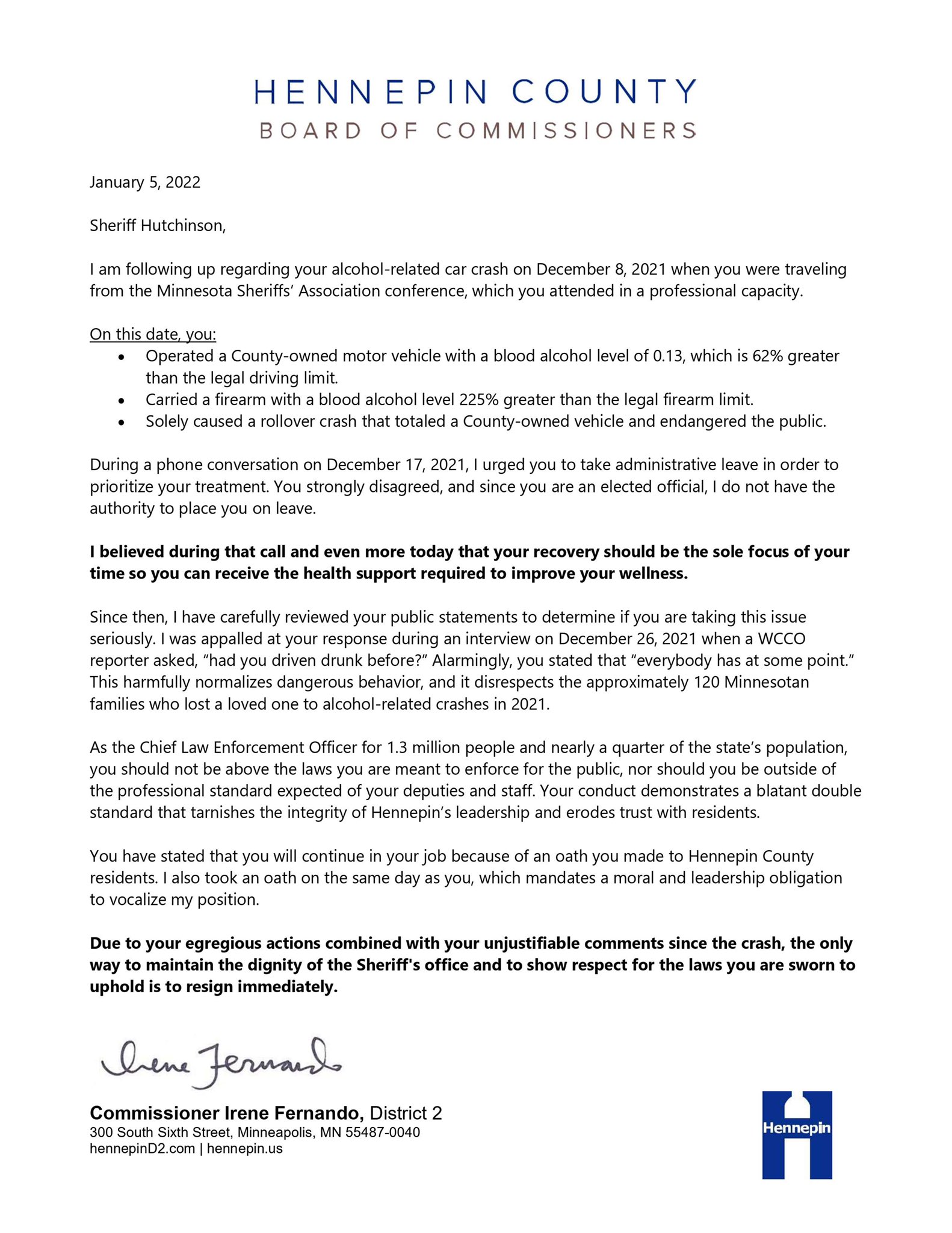 01/05/21 – Things are getting spicy. We find out from data requests who the "Hennepin County administration" officials were that sent police to investigate the photojournalist covering Sheriff Hutch's trainwreck. It seems Hennepin County Administrator David Hough, Assistant Administrator of Public Works Lisa Cerney, and Assistant Administrator Chela Guzmán-Wiegert may have been in cahoots to try and help Sheriff Hutch survive the disaster without accountability? Somebody should look into these DFL machine hacks too.
01/05/21 – And the worst day of Sheriff Hutchinson's career ends with the reason the progressive DFL finally came forward to chuck him under the bus for being a complete failure……Deputy Suwana Kirkland announces her run for Sheriff.
01/06/21 – With a DFL alternative announced as running for Hutch's job, the "justice equity" and "police reform" wing of the Minneapolis DFL and more county commissioners come out of the woodwork to demand Sheriff Hutchinson resign immediately so an uncompromised leader can take charge. It's a pig pile and Sheriff Drunk-o-patamous makes US News & World Report. Commissioner Kevin Anderson strangely states he hopes Hutch "is making decisions in the best interest of the people of Hennepin County and the officers he is charged with leading." This guy a Republican? It's pretty obvious Hutch isn't considering anything else but himself and his burning political career. Tim Walz, Ilhan Omar, Jeremiah Ellison, and other machine DFL political figures that endorsed and launched Hutch's original bid for Sheriff still haven't come forward to demand resignation.
01/06/21 – RecallSheriffHutch.com goes live, and it appears people aren't going to allow Sheriff Hutch to wait until November elections to decide his fate.
01/07/21 – When things look bad, don't worry……they can still get worse. The Minnesota board charged with licensing and supervising law enforcement officers and investigating officer violations has confirmed they are investigating Sheriff Hutch. The clock is ticking and things aren't looking good for Whiskey Goggles Hutchinson. More officials and The Star Tribune Editorial Board call for Whiskey Goggles to resign.
01/08/21 – King Walz is still standing by his best buddy Sheriff Hutch, and the news notices.
If taken at his own word from his previous press interviews and statements Sheriff Dave Hutchinson should resign or be recalled for malfeasance and improper conduct.
Hennepin County Sheriff Dave Hutchinson:
Drove drunk many times over the legal limit
Carried a loaded weapon drunk
Destroyed a county patrol vehicle
Made false statements to law enforcement officials investigating his actions
Had an open bottle of whiskey/bourbon in the passenger seat
May have used influence of his official govt position to obtain favorable treatment in court?
May have used his official govt position to facilitate disparaging and then investigating a journalist reporting facts about his actions?
Been a general failure for being completely absent during the riot of the century and negligent in taking no action to do his duty and use his office to stem the record murder and carjacking wave in his county.
Item #8 is enough by itself that Sheriff Hutch needs to be voted out of office, but the recent list of stupid and illegalities deserves a resignation or recall.
HENNEPIN COUNTY RESIDENTS – Call your mayor, city councilors, and county commissioners and ask them to demand Hutch to resign. Demand you commissioners investigate the administration actions to attack the journalist covering Hutch. GO SIGN THE ONLINE RECALL PETITION at RecallSheriffHutch.com to be on the list to be alerted of formal recall actions when they happen.
BE INFORMED, STAY INFORMED, FIGHT BACK!
To hear it first and get the weekly calendar? SUBSCRIBE to Rocksandcows.org
To see the calendar of political and fun events for Rocks and Cows country, or submit your own? Go to EVENTS
To help fund the calendar and the news? DONATE.
To show your Rocks & Cows pride, and defiance for King Walz stupid? SHOP